Improving Your Visitors to Leads Rate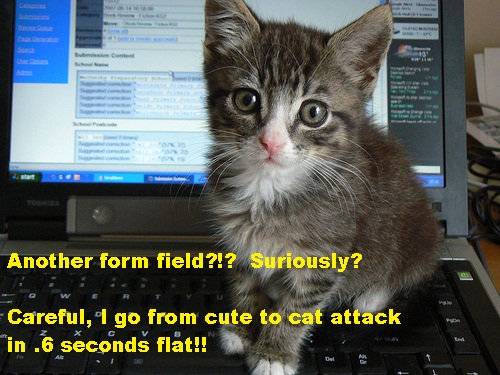 Does your company make money off of it's website(s)?  Or is your website simply a line-item cost of doing business in the 21st Century?  One of the tricks to getting a business website to generate revenue (or more revenue) is to make sure your lead capture system is working efficiently & effectively. In other words — what's happening to your website traffic?  What percentage of overall traffic turns into leads & what percentage of your leads convert into a sale (or better yet, reoccurring sales).
The five tips below are intentionally broad.  There are numerous strategies for improving your lead capture rates & many are industry-specific but the tips below will help any B2B or B2C business improve their lead capture rates:
A Unique "Thank You" page URL – This is one of the most often overlooked aspects of a business website, the contact form or "Contact Us" page.  Ideally, your contact form will automatically re-direct those who complete your contact form to a unique Thank You page.  This page should ONLY be used for those who fill out your contact form.  Ideally this page will use the "no follow" tag & company website traffic would be filtered out by IP address(es). You can then setup a Google Analytics Goal (see #4 for more on GA Goals & Funnels) using the specific Thank You page URL & even assign a value to each lead/goal completed.  Knowing the value of your average lead (or segmenting your leads so averages work better) is also crucial to making informed decisions about web development work.
Constantly A/B Test Your Landing Pages – The importance of testing your landing pages (plural) cannot be understated.  Seemingly nonsensical changes can greatly improve lead capture rates. For example, does a bright red call-to-action (CTA) button on your landing page perform better or worse than your existing lime colored CTA?  Before you get into a heated debate with the rest of the web team (or into an "ego-off" with a member of the executive team), A/B test those CTA buttons!  There is no shortcut for testing your landing pages.  Consider also building landing pages for all of your key marketing campaigns that include lead capture.  It's not draining from a resources standpoint & can often provide near-miraculous results (I've seen lead capture rates double from a single change in a sign-up form).
Identify User Loops & Website Problems with Visitor Flow (new version of GA) – The new version of Google Analytics (you can check it out by clicking on the link in the top right of GA) offers several new features worth knowing about.  The one I like the most is called Visitor Flow (last report under Audience in the new GA) which provides a visual representation of how people are using your website.  Spend some time in this section.  What it's showing you is how people behave once they visit your website.  Are there any traffic loops that show people are confused on a key page & are hitting the Back button?  What are the typical paths in which visitors that turn into quality leads navigate your website? The Visitor Flow report is excellent at helping to identify visitor behaviors (both positive & negative) on your website.  Be sure to change the Dimensions (the thing being measured) in this section as well.  The default view is Country/Territory.  Try clicking on the green box & searching for dimensions like Source or Keywords for more valuable information.
Develop GA Goals & Funnels – In the settings section of any GA profile (a little cog icon in the upper right of the new version) you'll find the ability to add in GA Goals & Funnels (links to a setup guide).  You get a total of 20 goals per website, so in most cases you can setup goals around specific website or business goals (for example, improving your lead capture rates).  This is also the place where you enter in lead value.  GA considers this information optional, but it really is a requirement, even if it's only an educated guess.  Knowing your average lead value is incredibly important to making informed paid search (AdWords) & web development decisions.  In the case of lead capture goals, you will want to enter in your custom Thank You page URL as the Goal URL & select the proper match type (most likely Exact if you have a static Thank You page URL).  You can also add in Funnels for each goal.  Setting up your preferred funnels (the path you would like visitors to take on your site before signing up) is useful for identifying website behavior.  Funnels can be used in conjunction with the Visitor Flow report to identify how visitors should be using your company's website (funnels) vs. how they are actually using the website (visitor flow).
Obtaining Referral URL Information – Some contact forms appear on multiple pages of a business website.  If potential leads can fill out a contact form from any page on your website, it's essential to also ask the form to provide information on the referral URL or, in other words, which page of your organization's website is responsible for the lead?  This will go a long way to identifying your best performing pages (they may not be your most trafficked pages) & will provide additional insight on what to A/B test.  If your contact form does not provide referral URL information you can switch to a contact form software that does provide it or contact your friendly neighborhood website developer for a quick & relatively painless addition.
As mentioned at the beginning of this post, these 5 tips are not a catch-all for improving your website's revenue.  Leads may go up, but if the sales staff isn't "on point" & treating each lead as valuable, then you may not see an overall increase in online revenue.  If lead capture rates were improving for your site but overall search traffic for your keywords has been declining than so to will your leads.
There are numerous scenarios & many moving pieces involved in making (more) money off of your company's website. Improving your lead capture rates is one piece of the puzzle.

Happy with your lead capture rates but can't find that missing piece to improve online revenues?  Contact Final Piece & let us find the missing lead capture piece for you.  It's what we do 🙂 (#shamelessplug)