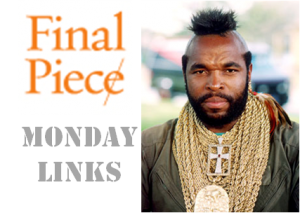 Starting this Monday and running until the end of time I plan on posting 5-10 of my favorite links from the previous week on social media, marketing, public relations and business. Some of this may have already appeared in my Twitter feed, but for those of you who like your coffee served with a nice mix of RSS straight to your Google Reader or inbox – this is for you.
1. Top 11 Free Resources to Improve Your Blog's Content
Some fantastic links from Harry Hoover that cover the blogging gamete to make sure you are creating compelling content targeted at those people you want to read your blog.
2. There, I Said It: Screw Viral Videos
Although I don't agree with the overall idea of the post – this is a great read from Jim Louderback.  I personal think the main problem is simply the word – viral.  Great video content is a necessity online it's just your expectations and initial investment that need to be in check.
3. See How They Did It: 104 Social Media Case Studies
Just like it sounds and just as glorious. The Conversation Agent has used her blog to review 12 case studies specifically and then link to another 92.  Not too shabby. Enjoy.
4. Wake Me Up When Your Press Release is Over
Extremely true take on why boiler plates are so awful and how companies can move away from the traditional way of ending a press release from Jonathan Grieb at CEC Insider.
5. 60 Proven Ways to Increase Your Online Marketing Influence
60 sentences taken from The Influencer Project from the good people at HubSpot.  Special shout out to my buddy Kipp Bodnar who is currently crushing it up in Cambridge!
6. The 10 Worst Business Books of All Time
Great topic and hilarious entry all around from Geoffery James.  Either don't read these books or read them and decide whether or not they made you dumber 🙂
What links did you enjoy last week?  Help me out because I can't read everything!